School safety is an essential part of education.
Covering classroom door windows is the first step.
School safety is an essential part of education.
Covering classroom door windows is the first step.
ALP now offers blackout shades in two unique fabrics to protect your classroom.
Our goal is to provide the best options in school blackout shades.
Traditional blackout fabric--the standard in lockdown shade protection.
Next Generation antibacterial blackout fabric that can be cleaned easily to fight COVID.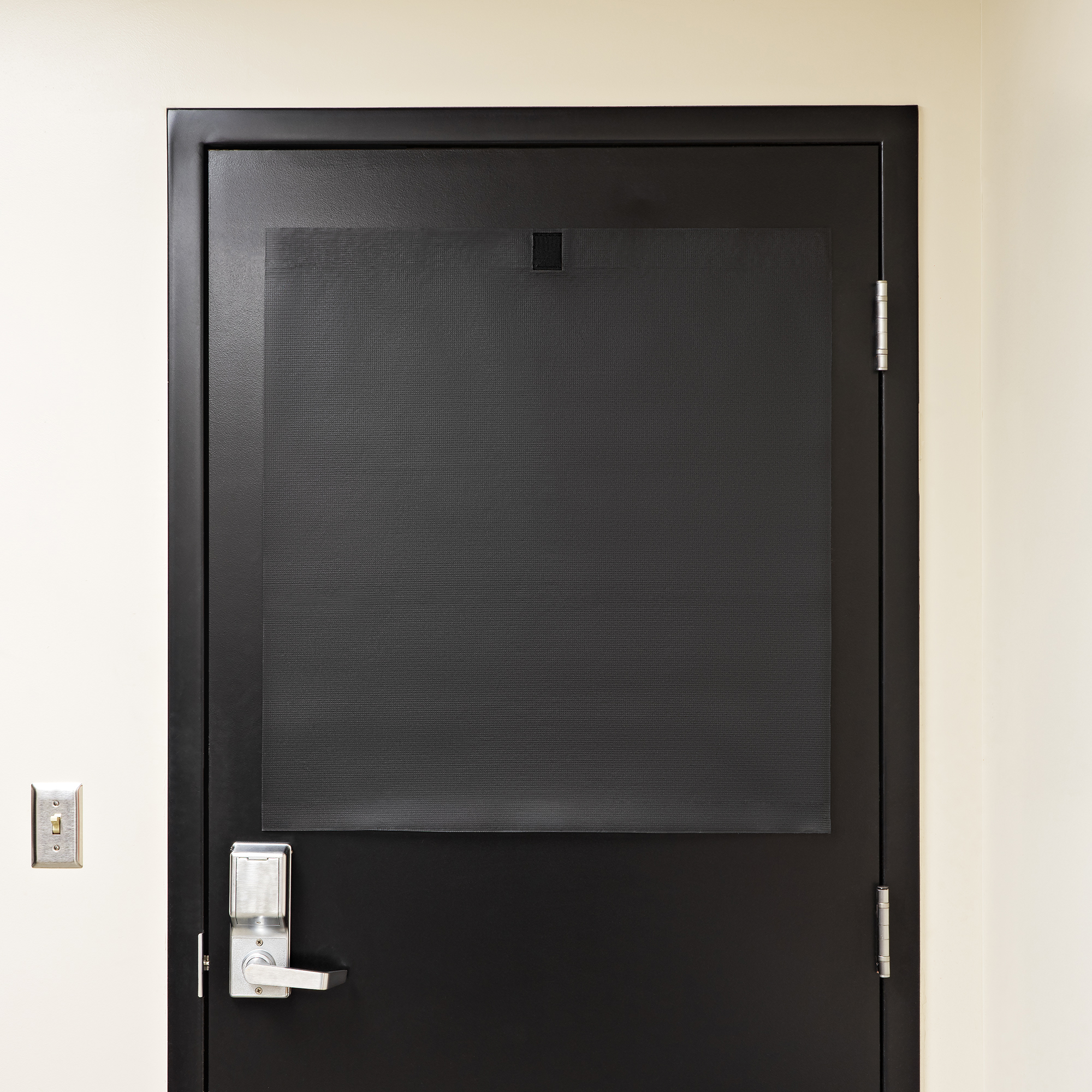 Features of our shades:
Each shade completely blocks classroom views.
Each shade releases the same way.
Each utilizes the same patented design, attaching to the top and bottom of the window.
Each deploys quickly to cover windows.
Each is FR rated and meets appropriate NFPA standards.
Each is available in standard and custom sizes.
No other shade provides an immediate, secure and maintenance-free lockdown solution.
ALP® lockdown shades provide maximum protection. The shades are uniquely designed to quickly and effectively fasten to both the top AND bottom of windows with industrial Velcro adhesive.
The Velcro strap at the bottom serves 2 purposes:
- serves as a weight bar to drop the shade quickly.
- secures easily at the bottom of the window with Velcro tabs to keep the shades in place during lockdowns, when children will be moving to safe locations.
Unsecured shades can expose children to danger.  Weighted hems alone are not practical solutions to solve this problem.
Once the emergency has passed, ALP® lockdown shades can be easily rolled up again and re-secured with the Velcro strap.
Priced to fit school budgets.
All our shades are made in our own factory, which means we offer factory-direct pricing, making our shades affordable for all school budgets. 
Our 10 standard sizes are based on window dimensions most often found in K-12, college and university classrooms.  We can also easily and efficiently manufacture custom shades of ANY SIZE to fit sidelights, glass entranceways and open concept media centers.  

All orders are shipped within 2 weeks and can be expedited sooner, if necessary.
No fire safety shortcuts.
All ALP® lockdown shades are FR rated and have passed NFPA 701 and 701-1 tests. Both our next generation and standard fabrics are made from industrial strength polyester that is flame retardant. A flame retardant agent is added to the PVC in our standard fabric that will not evaporate over time.
All certification and test documentation is readily available for local and state Fire Marshall inspection.
Our team has been at the forefront of school safety for over 10 years, leading the way in supplying classroom blackout shades nationwide.